Associations and Non-Profits
Associations and Non-Profits
Alleviate the burden
of payment disbursements
Associations and non-profits come in a variety of flavors — from professional associations and clubs, to charities and volunteer organizations, to unions. Managing on-site events and operations, often in multiple locations, with an ever-changing roster of participants that need to be paid accurately and on time can be enough to make your head spin. One thing is clear though, the money wasted on issuing paper checks cuts into funds that can be used elsewhere, toward achieving your organization's mission.

Thank goodness you're not dealing with paper checks, right? Or are you?
Issuing checks for payment comes with a lengthy list of challenges, including:
Reconciling uncashed checks
The high cost of issuing paper checks
Cash handling security issues
Stop payment fees for lost/stolen checks
Unclaimed property and escheatment
Smart, connected commerce for
associations and non-profits
Rapid's solutions for associations and non-profits have everything you need,

from managing automated disbursements and one-time disbursements, to paying contractors and vendors, event staff, contestants, club members and more.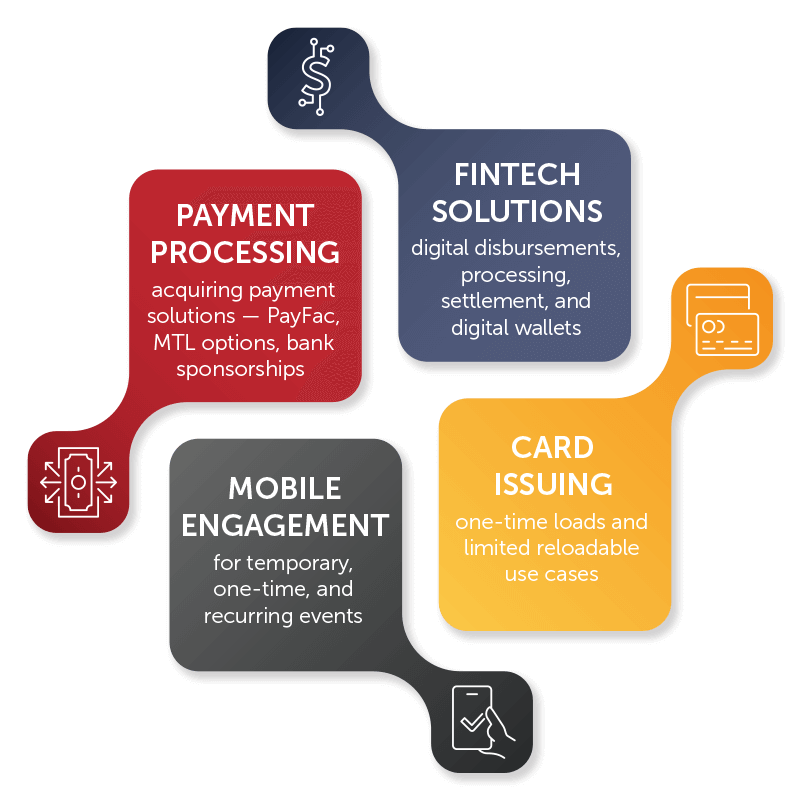 Register rodeo participants through any solution and pay them electronically using RodeoPay — and take care of the state and federal tax reporting. From the PRCA to local rodeo groups, RodeoPay processes and sends more than $50 million each year in payments.
Currencie is a Disbursement as a Service (DaaS) platform. Make payments, both individually and en mass, via an electronic payment platform. Recipients of funds can access money online through a variety of claim options, including bank transfers, PayPal, check, charity, gift card, or pre-paid card.
Whether you need to pay thousands at a time, issue virtual cards, receive payments or set up your own niche payment network, Rapid Fintech Consulting is here to help you succeed.
Rave reviews
from our clients in associations and non-profits
"RodeoPay has made it easier for our member rodeos to pay their contestants. With one click they can transfer money from the association bank account to the contestant's bank account."
— K. Bleakly, Pro Rodeo Cowboy Association
"We have eliminated costs in two main areas. First, we no longer need to handle and re-mail checks from the rodeos to contestants. This has freed up staff time and eliminated repetitive mailing costs. Secondly, with the integration between Rapid and our systems, we have reduced our volume of credit card processing charges by having contestants use funds from within RodeoPay to pay their obligations.
The use of RodeoPay, as provided by Rapid Financial Solutions, has allowed us to streamline and modernize our payment processing. As a result, our members have access to their funds in a secure manner, days to weeks faster than our old process. Additionally, our partnership has allowed us to provide other value-added services to our membership."
— Dan Martinez, Chief Information Officer, Pro Rodeo Cowboy Association
Accept credit card payments
from anyone
As a payment facilitator, or PayFac, for over 300 organizations, Rapid can take care of all of your merchant service needs. Accept credit card payments from anyone — from vendors, to businesses, to individuals. We have the tools and expertise to help you streamline the flow of money.