Corporations and Private Sector Businesses
Corporations and Private Sector Businesses
Drastically diminish
the headache of payment disbursements
Managing an accounts payable team is challenging enough. The last thing you need is the burden (and cost) of issuing paper checks for one-time disbursements.
Issuing checks for payment comes with a lengthy list of challenges, including:
Reconciling uncashed checks
The high cost of issuing paper checks
Cash handling security issues
Stop payment fees for lost/stolen checks
Unclaimed property and escheatment
Smart, connected commerce
for corporations
Rapid's solutions for corporations and private sector businesses have everything you need,

from managing automated disbursements and one-time disbursements, to corporate incentives.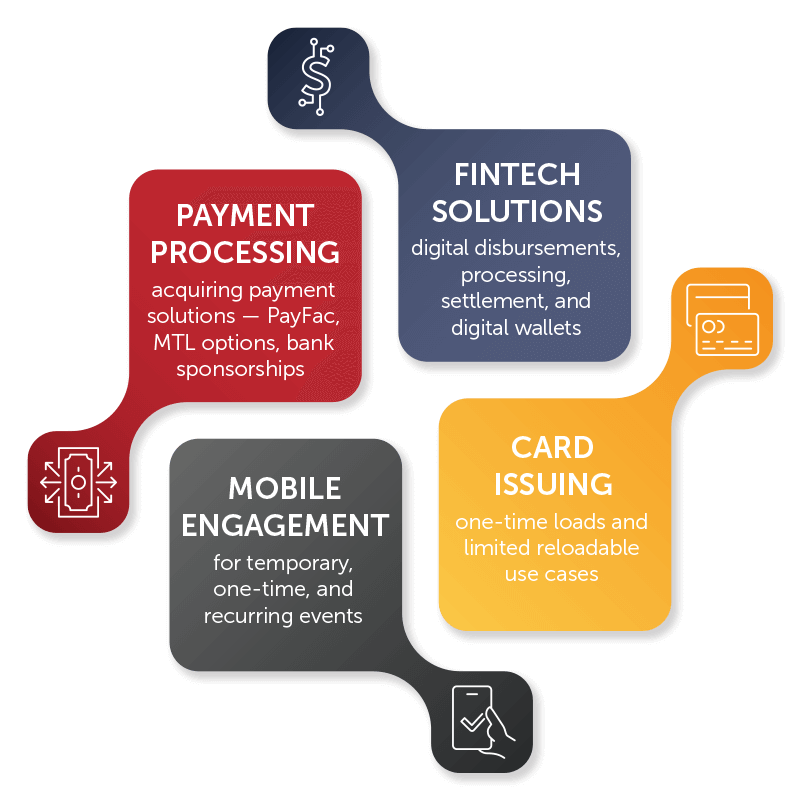 From small privately held businesses, to large publicly traded companies, MintCheetah is the hassle-free way to pay everyone accurately and on time. Manage all of those uncategorized payments such as media, rebates, virtual card, corporate incentive, or GPR payouts.
Currencie is a Disbursement as a Service (DaaS) platform. Make payments, both individually and en mass, via an electronic payment platform. Recipients of funds can access money online through a variety of claim options, including bank transfers, PayPal, check, charity, gift card, or pre-paid card.
Whether you need to pay thousands at a time, issue virtual cards, receive payments or set up your own niche payment network, Rapid Fintech Consulting is here to help you succeed.
Rave reviews
from our corporate clients
"Before using Rapid, we spent a lot of time going to the bank, getting cash, and filling out reimbursement forms. Many payroll hours were spent sending MoneyGrams or Western Union to our clients out of state and taking cash to in-state clients many times during the week.
Since we started using Rapid, we have been able to track expenses more accurately, found a reliable way to help with our client's expenses (especially on weekends and after hours), and almost eliminated outside costs and fees to send money. Having a way to control cash has also been a huge advantage!"
— Andrea Jenkins, Heart to Heart Adoptions, Sandy, UT
"Rapid has been willing to work with us on a number of creative options for our clients that otherwise would not have been available to a company our size. We would not be able to provide the services we do without their help.
Most of our clients have reported cost reduction associated with payroll of between 40% and 70%."
— Clark Evans, Chief Operations Officer, ArbiterSports, Sandy, UT
Accept credit card payments
from anyone
As a payment facilitator, or PayFac, for over 300 organizations, Rapid can take care of all of your merchant service needs. Accept credit card payments from anyone — from vendors, to businesses, to individuals. We have the tools and expertise to help you streamline the flow of money.