Providing frictionless

fintech, payment and engagement

solutions through technology innovation
Tyler Technologies Acquires Rapid Financial Solutions
Rapid has joined Tyler Technologies, the leading provider of integrated software and technology services to the public sector. Read the full announcement here.
Providing frictionless

fintech, payment and engagement

solutions through technology innovation
Rapid's Platform-as-a-Service (PaaS) empowers your organization with
a complete suite of fintech, payment and engagement solutions,

giving consumers greater choice and connection to the services they need.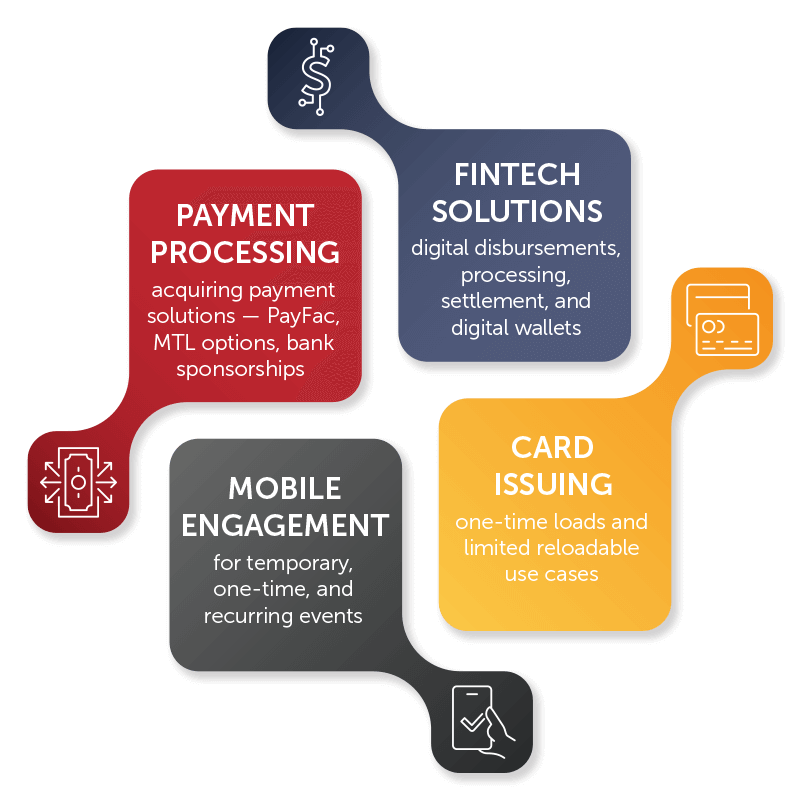 Fintech solutions — digital disbursements, processing and settlement management, digital wallets and more
Payment processing — as a payment facilitator, or PayFac, Rapid can take care of all your merchant service needs
Card issuing — one-time pre-paid card loads, as well as limited reloadable use cases
Mobile engagement for temporary, one-time, and recurring events
payments processed every year
county governments, municipalities & associations serviced annually
Hassle-free
card issuing
solutions
With a pre-paid debit card program, your business can move into today's technology and eliminate unclaimed property, escheatment, lost and stolen checks, check fraud risk, bank account reconciliation headaches, and cash handling.

And while you're at it, we can also help you drastically reduce the cost of making disbursements.
The
better way
to build and manage mobile apps
Whether it's an app to help your court engage with jurors, or a game day app for a sports event, Rapid can help you create an awesome user experience.
Our rapidENGAGE™ platform is the perfect mobile app builder for temporary, one-time and recurring events.